Worker

"It is going to be perfect for what we are

doing, ergonomically for your body, and

supports your lower back."

Arcelormittal Coatesville

Safety Engineer

"I speak for many people here at

Arcelormittal Plate when I say this, overall

we are very pleased with our purchase. We

continue to identify new tasks in which

there is a legitimate purpose for the units,

our employees continue to reach out to

interact with or wear the units"

Flat Chrysler Automotive

Physiotherapist

"The exoskeleton brings comfort, supports weight,

reduces effort throughout the journey

and lessens worker fatigue"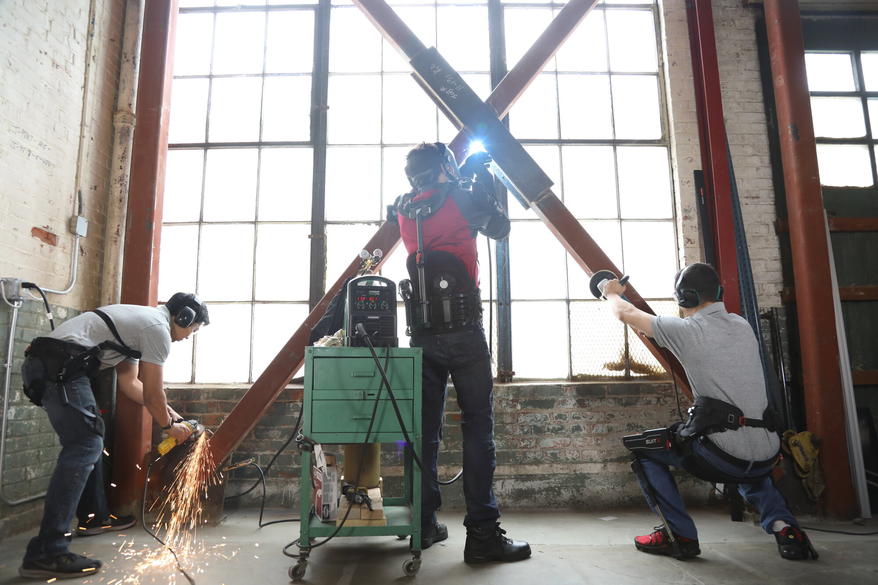 What are Industrial Exoskeletons?
Industrial exoskeletons are wearable devices that can make their users feel less tired and reduce users' risk of repetitive stress injuries.
It is important to identify and select the proper device, or combination of devices, for task being performed.
We offer three devices that can be worn individually or be combined to form up to seven different exoskeleton configurations.
Industrial exoskeletons use mechanical leverage to transfer and redistribute loads on your body, resulting in reduced strain on the targeted joints.
Reduce the Risk of Injury

By alleviating muscle strain/activity, industrial exoskeletons also reduce the compressive forces at targeted joints (such as the shoulder joint, the L5-S1 vertebra, and the knee joint) thus reducing the risk of joint injury.
With reduced muscle strain and risk of injury, SuitX exoskeletons improve the users' quality of work and the quality of life.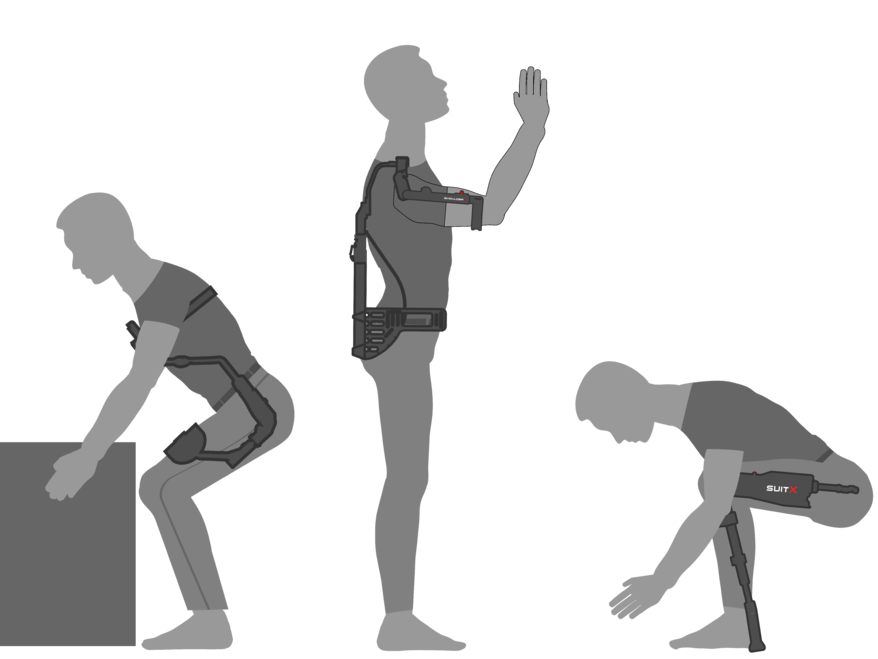 Multiple Customizable Solution
SuitX is the only exoskeleton company in the market that offers three individual exoskeleton modules designed to be able to work in unison to assist the shoulders, back, and legs. Each module can be worn individually or in combination to make seven different configurations to cater to our customers' specific needs.
When to use Industrial Exoskeletons
If a person is in a high risk posture for a prolonged period of time, or repeatedly during the course of their work, they might be at risk for developing work related musculoskeletal disorder (WMSD)
Harmful forces on your body increase, when simply supporting your bodyweight, in prolonged awkward postures such as: raised arms over your head, bending at the hips, or kneeling.

Carrying loads, such as a packages or tools, increases the forces on the body's muscles and joints.

The higher the forces, the higher the risk of injury. It is often difficult to reduce these loads due to environmental and/or engineering constraints.

Jobs where a worker must be in an awkward posture, or carry loads require sufficient recovery in-between work cycles.

Without rest, sustained or repetitive motions can result in increased risk of injury.

Exoskeletons are not well suited to support certain tasks involving excessive loads. They are limited in the amount of support they can apply without creating discomfort.

Some tasks are not strenuous enough to justify the use of an exoskeleton. Workers with mild tiredness or discomfort may prefer not to wear additional hardware.