Remote-Controlled USV for Garbage Collection at Singapore Port
Unmanned Surface Vessel (USV) equipped with M1 5G perform garbage collection and water surveillance at Marina Keppel Bay (MKB) Singapore to test M1 5G coverage on the water area. A piece of good equipment that reduces water pollution (no gasoline required), remote cleaning, creating more high-tech jobs and cleaner water area for all to enjoy.

Video: Weston Robot electrical Unmanned Surface Vessel did the cleaning job at Marina Keppel Bay in Singapore.
Weston Robot's electrical Unmanned Surface Vessel (eUSV) is environmentally friendly with zero carbon emission with less routine maintenance than gasoline-powered vessels. This also offers the opportunity for manpower to be deployed more effectively and with the re-skilling of staff to take on newly created high-tech roles of manning and remote piloting of such autonomous robots.


The conventional way of water-area cleaning often involves heavy amount of manpower., two workers performing the duty together, one is driving the boat while the other worker is operating the cleaning mechanics. It is very challenging to attract fresh graduates to join the workforce due to the harsh working environment. The boats deployed today almost all run on gasolines, which is not environmentally friendly. It often requires regular maintenance of the gasoline engines.


Video: difference of using electric unmanned surface vessel (eUSV) vs conventional gasoline powered boat.
Weston Robot was proudly invited by M1 to join the event to perform for the real-time surveillance and garbage clearing robots that taps under their 5G network at Marina Keppel Bay (MKB) to test their 5G coverage at the site. At the event Weston Robot presented 3 types of robots which are the USV Vessel called SMURF for garbage clearing, USV ELFIN for water patrolling surveillance, and UGV SCOUT for ground patrolling surveillance. Our robots have displayed each of their features and abilities to increase the productivity and the efficiency of their roles, especially on the USV Vessel (garbage clearing), as it helps to clean the garbage thoroughly on the water and it also help the person to manage his/her cleaning efficiently and so it also increases their productivity too.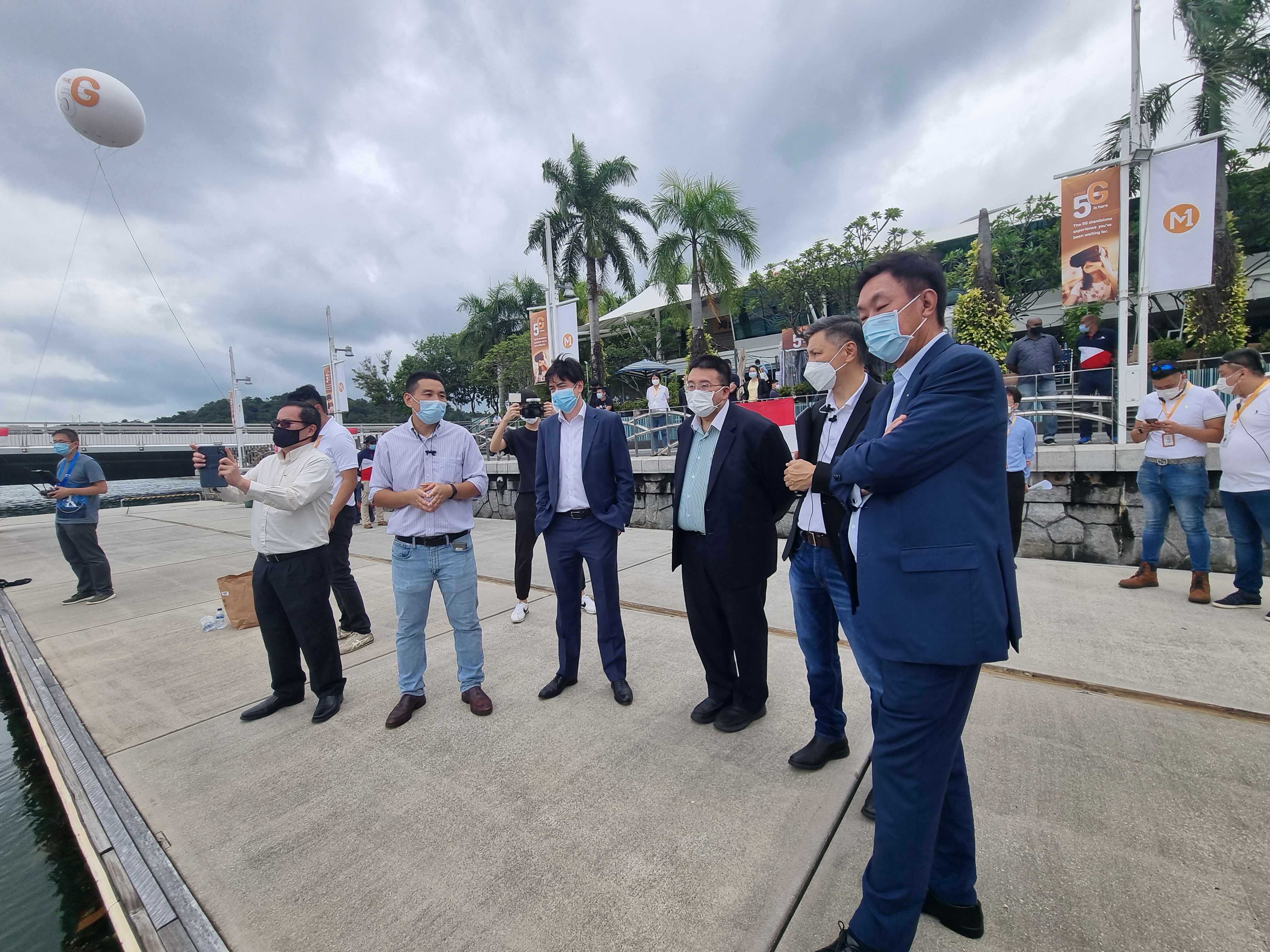 Picture: Dr Zhang Yanliang from Weston Robot, Keppel Chief Executive Louis Lim and M1 Chief Executive Manjot Singh Mann, and other senior management team from M1, viewing Weston Robot Autonomous Garbage Collection remote-controlled USV

Video: Autonomous unmanned surface vessel is also deployed at MKB for security surveillance.