Weston Robot Showed Robots at ASEAN Disaster Management Week
Weston Robot's showcased their cutting-edge disaster response robotics at the ASEAN Disaster Management Week in Singapore's Farrer Hotel from August 21 to 24, 2023. Their innovative robots, including an agile robot dog and a rugged tracked robot, demonstrated autonomous navigation and data collection in hazardous environments. Notably, Minister K. Shanmugam's visit highlighted the significance of these technologies in enhancing disaster management. Weston Robot's participation underscored the potential of robotics to revolutionize disaster response strategies, fostering collaboration and innovation among ASEAN stakeholders.
During the ASEAN Disaster Management Week held at Farrer Hotel in Singapore from August 21 to 24, 2023, Weston Robot presented a compelling array of advanced robotics technologies specifically tailored for disaster management and response scenarios. The event provided a comprehensive display of innovative robotic solutions aimed at addressing the various challenges encountered during both natural and man-made disasters within the ASEAN region.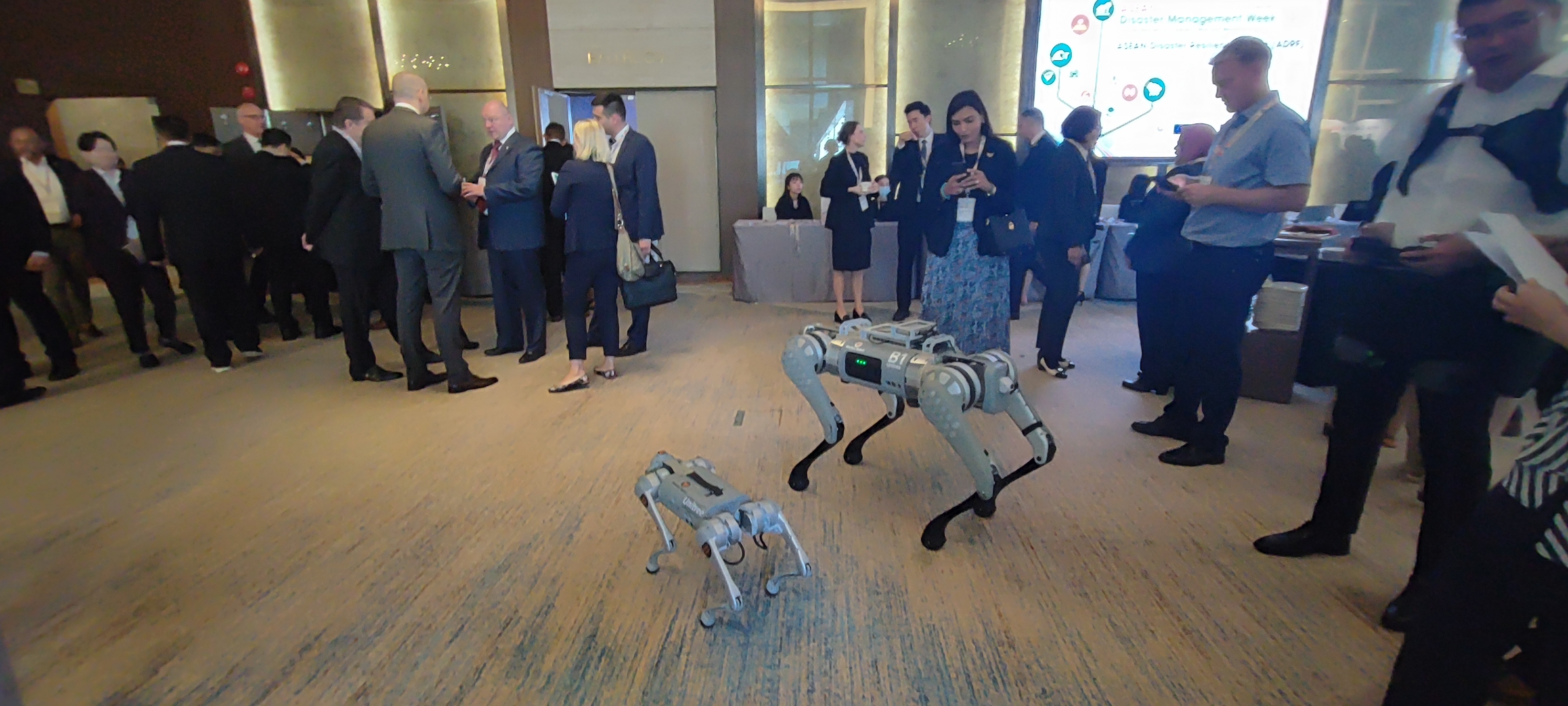 Photo: Weston Robot Showed Robots at ASEAN Disaster Management Week

At the heart of Weston Robot's exhibit was their cutting-edge robotic technology, strategically designed to bolster and amplify disaster relief efforts. The exhibited robots showcased an impressive variety of capabilities, including autonomous traversal of complex and hazardous environments, comprehensive data collection from disaster-affected areas, and pivotal support for emergency response teams. The featured robotic lineup included a robot dog, known for its agility and adaptability, as well as a tracked robot engineered to navigate challenging terrains with ease.


One of the event's notable moments came when Singapore's Minister for Home Affairs and Minister for Law, Mr. K. Shanmugam, visited Weston Robot's booth. He took the opportunity to engage with the showcased robots and witnessed firsthand their potential impact on disaster management. This visit underscored the importance of innovative technologies in enhancing disaster response and recovery capabilities.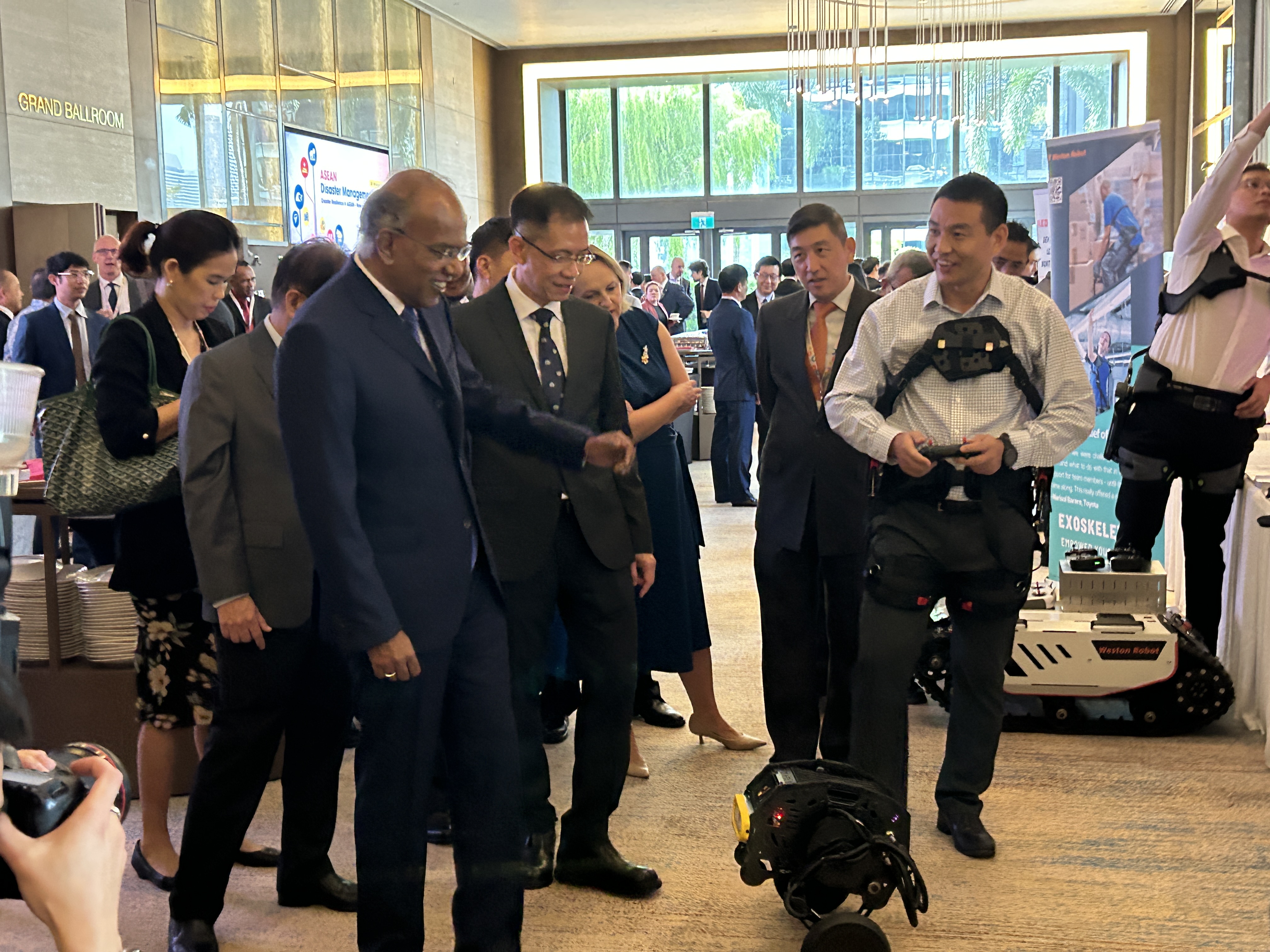 Photo: Minister for Home Affairs and Minister for Law, Mr. K. Shanmugam, visited Weston Robot's booth


A standout demonstration involved the highly adaptable robot dog equipped with an array of sensors and tools. This robotic companion adeptly showcased its ability to traverse uneven terrain, access hard-to-reach locations, and gather vital data to aid disaster management decision-making. Another showcased innovation was a robust tracked robot, capable of smoothly navigating rugged landscapes while collecting essential information crucial to disaster response strategies.



Video: CNA's Reporting: ASEAN Nations Urged to Improve Disaster Management Capabilities


Attendees at the event gained valuable insight into how these versatile robotic solutions could be seamlessly integrated into disaster scenarios, ultimately minimizing risks to human responders and significantly expediting the assessment and response processes. Weston Robot's pioneering contributions highlighted the immense potential of robotics in transforming disaster management paradigms, thereby enhancing overall efficiency in preparedness, response, and recovery initiatives.



Video: Reporting from Channel 8: 自然灾害频繁发生 亚细安必须提高应对灾难的能力


The ASEAN Disaster Management Week provided an invaluable platform for industry experts, policymakers, and stakeholders from the ASEAN region to explore emerging technologies and solutions with the potential to revolutionize disaster management. Weston Robot's active participation, along with the visit by Minister Shanmugam, significantly enriched the event by showcasing tangible and practical applications of robotics, underscoring their role in bolstering disaster resilience and response capabilities throughout the ASEAN community.